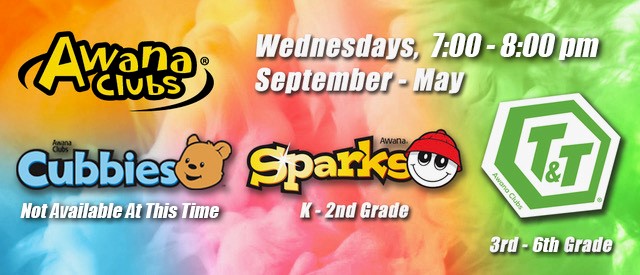 Wednesdays, 7:00-8:00 pm (check-in begins at 6:45pm)


Awana helps parents to raise children to know, love and serve Jesus Christ. Awana is our midweek discipleship club where children have the opportunity to memorize, study, and learn life lessons from important passages of the Bible to help them grow spiritually, and have a blast playing exciting games and activities.


Awana is divided into three segments:
Games:

Kids participate in social distancing games.

Handbook & Small Groups

: Kids rehearse, memorize and study scripture in smaller groups.

Large Group

: Kids sing, worship and hear a Bible lesson specifically for them to apply to their life.
We have three divisions of Awana Clubs:
Cubbies:

For 4-5 year-olds. (4 years old as of September 1st) (Not available at this time)
Sparks:

For Kindergarten - 2nd grade.
Truth and Training (T and T):

For 3rd - 6th grades.
The name Awana stands for Approved Workmen Are Not Ashamed, and comes from 2 Timothy 2:15 which says, "Do your best to present yourself to God as one approved, a workman who does not need to be ashamed and who correctly handles the word of truth."
Download the AWANA Registration Brochure for more information and to register for Awana 2020-2021. If your child is not yet registered, you can do so at the first night of Awana on September 9, 2020, or the preferred method - Register Online. After September 9, we ask that you arrive before 6:45pm to allow time for the registration process.

The Online Registration cost is $40/child and includes Book.
Awana Dues $1/week for the year and $1 support for Awana Missionaries ($30/child) and a new handbook ($10) for a total of $40/child.
If a Child registers after January 31 ($20/child + $10 handbook =$30/child)
after March 1 ($10/child +$10 handbook =$20/child).

Payment Options Available:
Pay in Full as you Registration

Online.

Pay Half at Registration and the Remainder on Jan. 29.
Please make checks payable to Community Fellowship.
Scholarships are available upon request.


Schedule
AWANA begins September 9 - Registration online only.
This is the first full night of Awana Clubs and Awana runs through May 5 on Wednesday nights at 7:00-8:00pm (check-in begins at 6:45pm).
Download the 2020-2021 AWANA Calendar!

Volunteer
Would you like to Volunteer in Awana Clubs while your child is participating? Please contact Sandy Dimas, Late Childhood Coordinator, at for more information.