Women's Summer Book Connect
Every Wednesday from 06/17/2020 to 08/26/2020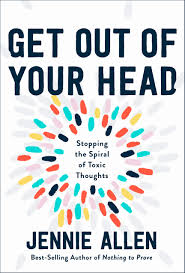 Ladies join us for our weekly Summer Book Connect as we take a closer look into the concept of 'how we think, shapes how we live' by reading, "Get Out of Your Head", by Jennie Allen.
GET OUT OF YOUR HEAD will help you:
Identify the negative thought patterns that are keeping you stuck

Understand the science behind why your thoughts can change your life

Recognize your God-given power to confront and overcome your toxic thoughts
Starting Wednesday, June 17th through August 26th
9:00 AM at your Leaders Home
Please purchase your book by June 14th so you can have it for your first meeting. You can find the book on Amazon.com by using this Amazon link here.
Registration is now closed.