Awana 2020-2021
Every Wednesday, from 09/09/2020 to 05/05/2021, 7:00 PM - 8:00 PM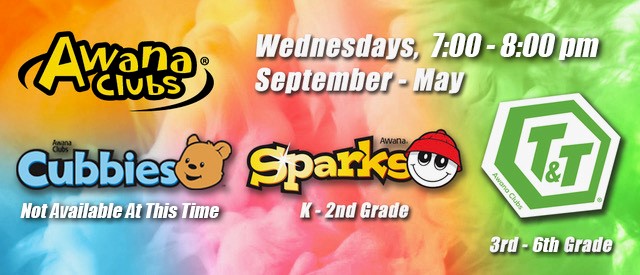 The name Awana stands for Approved Workmen Are Not Ashamed, and comes from 2 Timothy 2:15 which says, "Do your best to present yourself to God as one approved, a workman who does not need to be ashamed and who correctly handles the word of truth."
Awana is divided into three segments:
Games: Kids participate in social distancing games.
Handbook & Small Groups:

Kids rehearse, memorize and study scripture in smaller groups.

Large Group:

Kids sing, worship and hear a Bible lesson specifically for them to apply to their life.
We have two divisions of Awana Clubs:
Sparks: For Kindergarten - 2nd grade.
Truth and Training (T and T): For 3rd - 6th grades.
If you're new to Awana, please make sure to come early. Check-in begins at 6:45pm.
Check out the FULL AWANA SCHEDULE