Caroline Cobb in Concert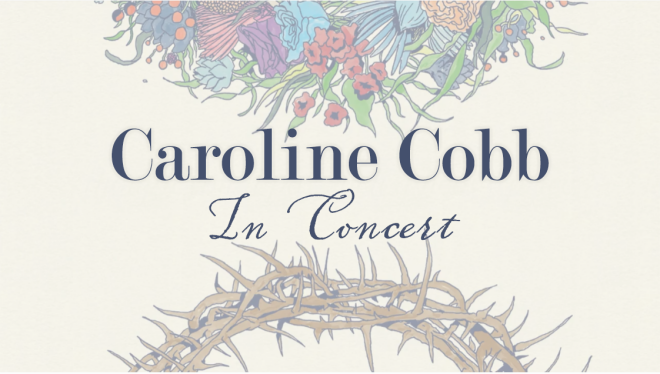 Sunday, October 17, 2021, 7:00 PM - 9:00 PM
About this event:
Rehearse and remember God's Story through song.
Join Caroline Cobb for an evening of story and song as she celebrates the release of A King & His Kindness, a brand new album.
Doors open at 6:45 p.m. | Concert at 7 p.m. | No reserved seating | Social distanced seating available
Tickets $10 (Adults 18+); Children/Youth (17 and younger) come FREE

Merchandise available for purchase at event
Mask when moving protocol observed at this venue. Masks optional when seated.
About Caroline:
Caroline has a passion to tell God's Story through song.
Before her thirtieth birthday, singer-songwriter Caroline Cobb set a goal to write a song for every book of the Bible in one year. That year set in motion a passion to tell the stories of scripture through music: helping you rehearse and remember the good news in your everyday.
Caroline's newest album, A King & His Kindness (Oct 2021) zooms in on the heart of Jesus. Produced by Isaac Wardell (Josh Garells, Sandra McCracken), the album builds on Caroline's previous Story-telling projects A Seed, A Sunrise (2019), the Blood + the Breath (2013) and a Home & a Hunger (2017), the latter being named among "The Best Albums of the 2010's" by The Gospel Coalition. With every song parachuting into a different biblical scene, Caroline traces biblical themes like redemption from Genesis to Revelation.
With every album & concert, Caroline's heart is to help you rehearse & remember the big story of scripture.
Caroline has been featured by Christianity Today, The Gospel Coalition, Doxology & Theology, Risen Motherhood and many more. She and her husband live in Dallas, TX with their three children Ellie, Harrison and Libby.
To listen and reflect on some of Caroline's music – carolinecobb.com.