Women's Summer Book Connect
Tuesday, July 26, 2022, 6:30 PM - 8:30 PM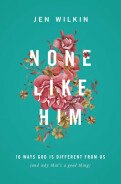 This summer join the women of Community Fellowship to read and discuss None Like Him by Jen Wilkin for our Summer Book Connect! During the months of June and July, we will read independently about 10 of God's attributes (infinite, incomprehensible, self-existent, self-sufficient, eternal, immutable, omnipresent, omniscient, omnipotent, and sovereign), and then have ONE gathering the evening of Tuesday, July 26 to discuss the book over appetizers and dessert. We will consider the questions:
How should the knowledge that God is ______ change the way I live?
What measurable change in my life should occur as a result of meditating on God's immeasurable attributes, as described in the Bible?
Join us this summer as we seek to know and love God more deeply through getting to know his attributes!
In person gathering Tuesday, July 26th
6:30-8:30pm at CF in Room 112