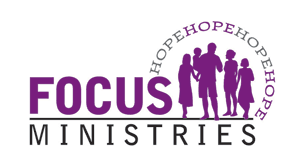 Domestic abuse (physical, emotional, verbal, sexual, financial, etc.) occurs whenever one person in an intimate relationship tries to dominate and control the other person. The abuser has one purpose and one purpose only: to gain and maintain total control over you by using fear, guilt, shame, and intimidation to wear you down and keep you under his or her thumb. They may also threaten you, hurt you, or hurt those around you.
Know anyone? Does this describe you? Victims feel responsible, worthless, hopeless, op-pressed, trapped, isolated and alone, just trying to survive day to day. If this is you, or if you know of someone, FOCUS Ministries provides a loving, safe and confidential environment for victims to seek help, to heal and to be transformed by God's Word. We offer hope and encouragement through:

EDUCATION…What is Domestic Violence & Unsafe People Traits
RESOURCES…Community Resource List
PRAYER

Whether in the present or the past, abuse can have a serious impact on the way a person thinks and interacts with the world around them. FOCUS Ministries has made a difference in the lives of women. Their testimonies are powerful! Come join us and begin healing, today. We are here for you.

"O, Lord, You alone are my hope." Psalm 71:5

FOCUS Ministries, Inc. is an non-profit organization that reaches out to women who find themselves in destructive and hostile relationships, offering hope and healing in the Lord Jesus Christ.
​Contact us: 630-617-0088 | www.focusministries1.org (info & resources)