"We do not mourn as those without hope"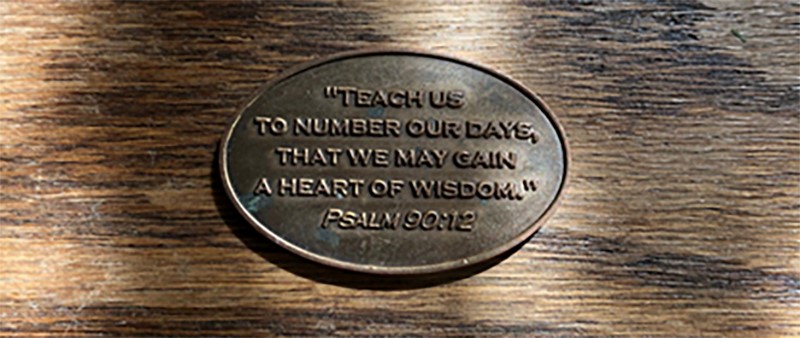 Two days ago we lost our Christian brother, John Ledr, to a heart attack. John was such a vigorous and healthy guy. It came as a complete shock to me. John and I had planned to take our daughters to Willow Creek's Camp Paradise this summer. The above picture is a coin that the camp passed out a few years back as a reminder to invest in our kids while we still can do so, before the number of our days expires. John and I had been talking about doing this for a few years but had been having trouble syncing our schedules. Now there won't be any more daddy/daughter camps for John and that grieves my heart. What I can tell you about John was that he was an all-in guy, he lived for his God, his wife, and for his family. Many times over the years he drove 9 plus hours for one on one times with his kids at Camp Paradise. This was not a sacrifice to John, but a great joy as he had discovered the secret to a "heart of wisdom".

John and I had much in common, we both married late in life and both got serious about our faith later in life. We both had five kids and ran our own businesses. John was a hard worker and a very early riser, much like me as well. We had both changed from self-seeking, aimless lives, to lives that were firmly on the narrow road for Christ, discipline being the key.

I first met John at a Primetime (singles group at Willow Creek) ski trip to Colorado. I was a hack skier; John was fluent and smooth. John was a party guy at that point and he figured a ski trip was the perfect place to have a good one. I vividly remember waking up early one morning and seeing beer cans strewn everywhere in our unit as well as half eaten pizza. I had to smile as it reminded me of a scene from my not too distant past. I started a friendship that day with John. That was thirty plus years ago.

I met a young lady on the trip who I asked to ski with the next morning. She said yes, and I was looking forward to that time. John found out about our skiing together and asked if he could join us. I was really torn now. I had been praying to make a difference in John's life, but I wanted some alone time. I reluctantly said sure, that would be great to have you John. I played the part of generous spiritual guy. "Fake it until you make it" as we say in the recovery program. Of course, you know what happens, the young lady likes John and I slide out of that picture. If I can summarize the spiritual lesson here for me it is, "Seek ye first his kingdom and his righteousness and all these things shall be added unto you." - Matthew 6:33

The best part though is that John started the process of coming to saving faith in Christ through the leading of a few other godly men. To have had a small part in that process brings me great joy to this day. John dated the young lady in question a few times, and we joked about it later in life (although at the time I wasn't laughing much). John later married a beautiful Christian woman named Peggy and I married the love of my life Heidi. God is good. All things are good in the right time. John was late to the marriage and kids plan, but he hit the ground running knowing his True North, which is found only in Christ.

John also joined a men's group modeled after one that I was in. I was in mine for 25 years and I think John was pushing that number as well. If I can encourage our church in one area, this would be it, invest in challenging, iron sharpening relationships where you can be known and know others. This takes commitment and discipline, traits my friend John didn't lack. I grieve for the guys from his group, Steve, Curt, Pete, Bruce, Pat, and I am sure I am missing a few. Most of all I grieve for Peggy and the kids, she lost a godly husband and a great dad. The tears are just starting to flow on this one - be with us Lord in this time of deep loss.

We had a moving, Christ centered service, on Saturday June 20. I was blessed to be able to share some of this story that day. Church family let us indeed strive to learn to number our days, that we may indeed gain a "heart of wisdom". My friend ran his race and he finished a wise, wise man. Let us all seek to follow in John's footsteps until our days are no more.