Women's Christmas Dinner
Tuesday, December 03, 2019, 6:00 PM - 8:00 PM
Our Women's Christmas Dinner is a wonderful way to start the Christmas Season. The evening will include dinner from Moveable Feast and Co., Christmas music, and a heartfelt message from Catherine McNiel titled The Light made Visible. Tickets are $25 per person and will be available on Sunday mornings in the CF lobby (November 17 - December 1). Don't forget to invite a friend or two to come along with you.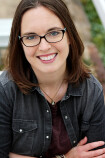 Our guest speaker, Catherine McNiel is a writer and speaker who seeks to open eyes to God's creative, redemptive work in each day—while caring for three kids, two jobs, and one enormous garden. She's on the lookout for wisdom, beauty, and iced coffee. Catherine is the author of All Shall Be Well: Awakening to God's Presence in His Messy, Abundant World (NavPress 2019) and Long Days of Small Things: Motherhood as a Spiritual Discipline (NavPress 2017) which was an ECPA finalist for New Author.
To learn more about Catherine, visit her website here.