Women's Summer Book Connect
July 25, 2023 6:30pm
Cost: $15.00
Contact: Lydia ClevengerLydia Clevenger
This summer join the women of Community Fellowship to read and discuss Habits of Grace: Enjoying Jesus through the Spiritual Disciplines by David Mathis for our Summer Book Connect! During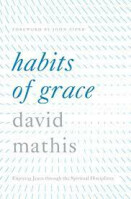 the months of June and July, we will read about three principles that shape and strengthen the Christian life:
The Word

– hearing God's voice

Prayer

– having his ear

Fellowship

– joining together with his people as the church
The reading and discussion will help us move toward understanding the "key pathways of ongoing grace and seek to create regular habits for these principles in life." As we cultivate these habits of grace, we experience the greatest joy of all: knowing and enjoying Jesus!
At the end of July, we will meet for ONE gathering to discuss the three principles in the Habits of Grace over appetizers and dessert.
Summer Book Connect Details
:
Title
: Habits of Grace: Enjoying Jesus through the Spiritual Disciplines by David Mathis
What
: Read independently during June & July, then gather for discussion over appetizers and dessert
**Bring an appetizer or dessert to share!
Contact Lydia Clevenger for details or with questions. (lydia.clevenger@commfell.org)