Women's Bible Study - Search the Word
Every Monday, Wednesday, Friday from 04/04/2022 to 05/27/2022
Search the Word: Knowing & Loving God Through Intentional Bible Study By Joanna Kimbrel
An 8 Session Study for Women on Studying the Bible
We have been given an incredible gift in Scripture—the very Word of God, written in ink so that we may know Him. It is life to our souls. Jesus says in Matthew 22:37 that the greatest commandment is to "Love the Lord your God with all your heart, with all your soul, and with all your mind." When we study Scripture we seek to know and love the God who breathed out its words. When we study Scripture as believers, we not only behold the glory of God in its pages, but we are transformed into His image, "from glory to glory" (2 Corinthians 3:18).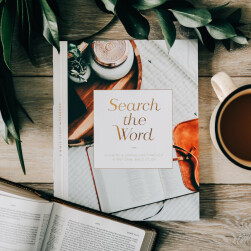 The Word of God is the authority on truth; it tells us who God is, who we are in relation to Him, and how we should live. It is therefore incredibly important to know how to study the Bible well. Search the Word takes an in-depth look at how to do just that. It is full of instruction, examples, and hand-on workbook pages to help you develop skills like:
understanding the context of a passage of Scripture
annotating the text
interpreting and applying the Bible to your life
and seeing Christ in all of Scripture.
The Bible is the Word of God that He has given us to know and love Him as we grow in godliness; and Search the Word helps give you the tools and confidence to approach Scripture rightly.
(From the publisher and the introduction)
Our studies meet in person at CF Monday evenings 7:00-8:30 p.m., Wednesday mornings 9:30-11:00 a.m., or Friday mornings in a home from 9:30-11:00 a.m. There is an online option on Monday evenings. Limited childcare will be available on Wednesday mornings.
Registration Deadline: March 30, 2022