Women's Bible Study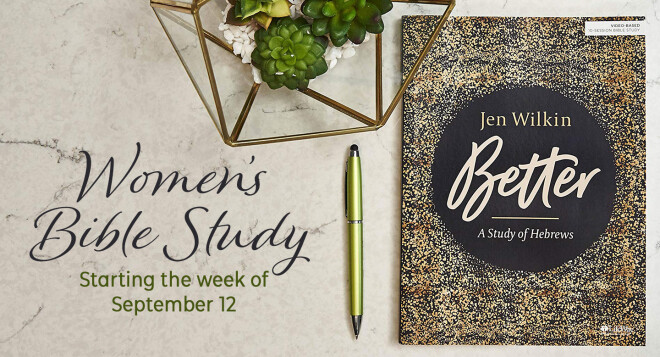 Every Monday, Wednesday from 09/12/2022 to 05/12/2023
Better: A Study of Hebrews by Jen Wilkin
In this verse-by-verse study of the Book of Hebrews, Jen Wilkin explores how God "provided something better for us" in the person of Jesus Christ (Hebrews 11:40).
Through stories of Old Testament heroes and practices, the author of Hebrews demonstrates how the new covenant is superior to the old and how Jesus Christ is the fulfillment of every promise. Explore familiar verses in context of the entire Bible, learning how to place your hope and faith in Christ alone.
Join our Women's Bible Study to:
Explore Old Testament stories to gain context for the superiority of Christ.
Gain an understanding of the old and new covenants.
Learn to place your hope in Jesus.
Study the Book of Hebrews verse by verse.
Our studies meet in person at Community Fellowship Monday evenings 7:00-9:00 p.m. or Wednesday mornings 9:15-11:15 a.m. There is an online option for Monday evenings. Limited childcare will be available on Wednesday mornings.
We will study the first half of the book ($15) this fall and complete the second half of the book in the winter and spring.
Start Date for Winter/Spring Session:
Monday, February 6 (7:00-9:00 p.m.)
Wednesday, February 8 (9:15-11:15 a.m.)